No clothing item lasts forever, but it also doesn't have to spend the early years of its life in a landfill just because it got a tear in it. That's why we created Renewt.
How Renewt Started With Technical Outdoor Apparel Repairs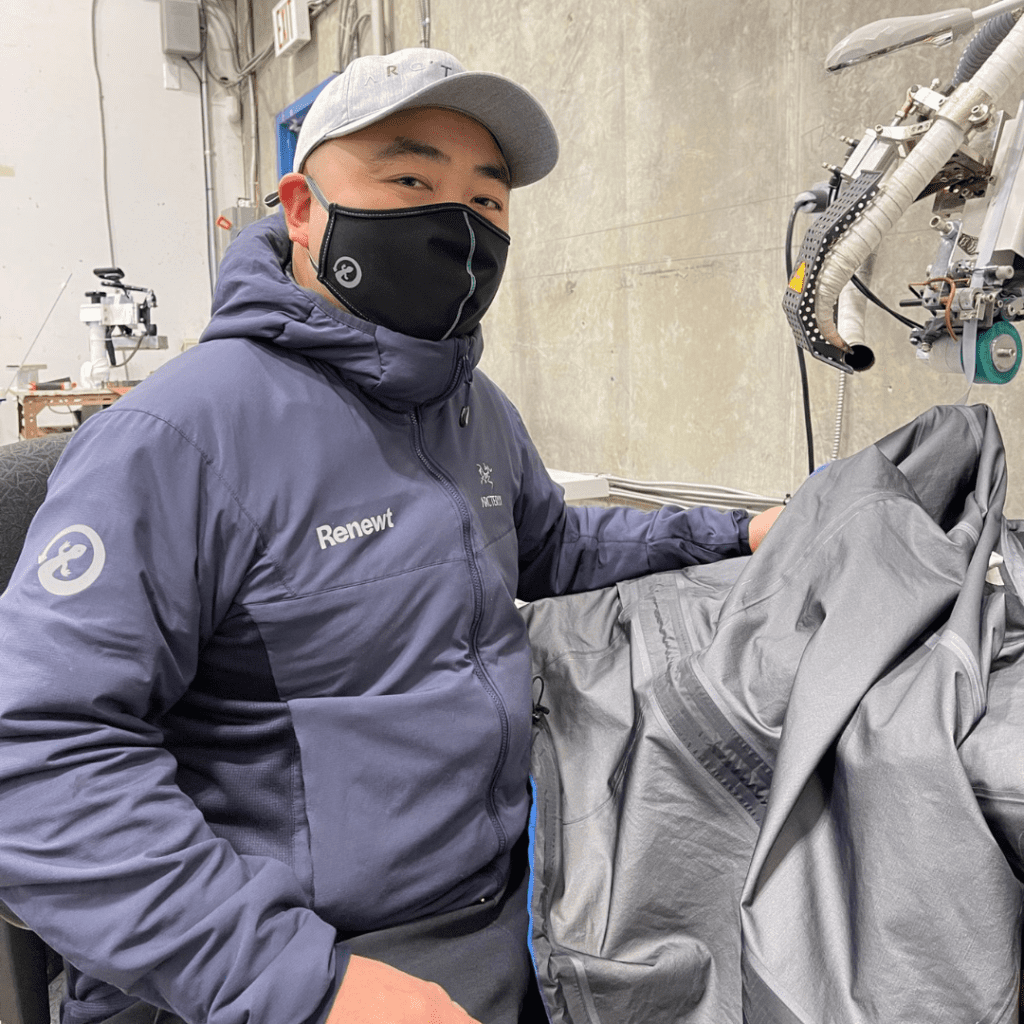 Founded by Vince Guo, Vince got his start as a technical apparel production professional. Through that role, he received extensive production experience working as a manufacturing engineer and production system manager at Arc'teryx and Mustang Survival. Although he loved his job, he took notice that outdoor clothing was rarely repaired and often just ended up in landfills.
He also had a passion for finding ways to improve the environment and make a difference through sustainability. His technical skills and passion led him to create Renewt: a company that melds Vince's passion for environmental sustainability with his technical apparel production skills to offer services for technical outdoor apparel repairs, alteration, customization, and prototyping.
The Meaning Behind Renewt
Just as we bring new life in older clothing, so does our branding match that. We are heavily inspired by one of nature's most adaptable creatures: newts. This salamander is known for its ability to regenerate or "renew" their limbs (and even their organs) if they are hurt. We melded this idea of our service of "renewing" clothing with that of the regeneration ability of newts to form our name: Renewt.
Our logo draws on multiple aspects of what we mentioned above as well. The tail of a newt forms a circular arrow that draws upon circular sustainability—one of the key pillars of our business. In Renewt, 'Re' represents renew, regeneration, and repair, while 'newt' again highlights the salamander newts, tying our clothing "regeneration" with that of their incredible ability of doing the same.
What We Do and How It Helps the Environment
How do we do what we do? Well, it's the talent of our experts that make our business not only possible but efficient as well. Our team is comprised of industry veterans from top-quality technical equipment brands like Arc'teryx and Mustang Survival. They have an in-depth knowledge of technical apparel repair which requires more than just industrial sewing skills, but also advanced construction skills such as fabric adhesive bonding and seam sealing.
To compliment our top technical apparel repair and production skills, we are also equipped with top-of-the line industrial grade machinery and tools. We only purchase top brands such as Juki, Brother, Mimaki, and know how to put them to appropriate use to deliver industry-leading results. Our core service of repairing clothing at this top-quality level, in turn, helps keep more clothes out of the landfill by helping keep their favourite items longer without having to replace them.
Overall, we saw a clear problem with clothing waste, and are doing our part to help make the world a little more sustainable by repairing outdoor clothing to be like new once again.